Clinical Evaluation vs Endoscopic Findings in Laryngomalacia at a Tertiary Institution in Northern Nigeria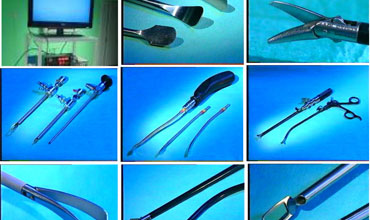 DOI: 10.21522/TIJCR.2014.03.01.Art005
Authors : Muhammad Ghazali Hasheem, Emmanuel Sara Kolo
Abstract:
Background: Laryngomalacia is the commonest congenital abnormality of the larynx. It the most important cause of stridor in neonates and infants stridor in the main presenting symptoms. In majority of the patient seen especially in peripheral health centers clinical symptoms and signs are relied upon for the diagnosis of the condition. Flexible laryngoscopy is however the mainstay of diagnosis. Objective: The aim of this study is to compare clinical findings and endoscopic findings of laryngomalacia in department of Ear, Nose and Throat of Aminu Kano Teaching Hospital Northern Nigeria. Material and Methods: We undertook a prospective cross – sectional review of all patient with larynomalacia who presented at the department of ENT Aminu Kano Teaching Hospital between June 2012 to May 2014. Bio – data and clinical information were obtained and stridor graded. Then flexible fiber optic laryngoscopy was done on the entire patient and the stage of endoscopic grading documented. RESULT: A total of 35 children were seen during the study period and 26 met the inclusion criteria and were enrolled. There were 17 (65.4%) males and 9 (34.6%) females with a male female ratio of 2.1:1. There ages ranged from 1day to1year. The mean age at presentation was 5 ± 2.71 months. Twenty six (100%) of the children presented with different degrees of stridor. Based on, the clinical staging of stridor the degree of stridor found was 21(80.8%) had grade 1 to 2 stridor, and 5 (19.2%) had grade 3 none was found to have grade 4 stridor. Clinical assessment of the severity of the condition by the same investigators, 17 (65.4%) of the patients had mild laryngomalacia, 5 (19.2%) had moderate laryngomalacia and 4 (15.4%) had severe laryngomalacia. Objective endoscopic grading of findings in these patients showed 18 (69.2%) of the patients had grade 1 to 2, 3 (11.5%) had grade 3 and 5 (19.2%) had grade 4 to 5 laryngomalacia. Using the Spearman rho correlation coefficient test, we found a significant strong positive correlation between clinical assessment and endoscopic grading of laryngomalacia (r=0.860, P=0.000).Conclusion: clinical evaluation still has significant reliability in the diagnosis of laryngomalacia. But flexible laryngoscopy remains the mainstay of diagnosis and all patients with laryngomalacia should have flexible laryngoscopy.
Keywords: Laryngomalacia, Stridor, flexible laryngoscopy.
References:
1.Apley J: The Infant with Stridor: A follow – up Survey of 80 cases Arch Dis Child 1953; 28: 423 – 35.
2.April M. Landry and Dana M. Thompson: Laryngomalacia: - Disease presentation, Spectrum and Management; International Journal of Paediatric, Volume 2012(2012) Article ID 75356, 6 pages.
3.Bailey, Byron; Johnson, Jonas; Newlands, Shawn D: Title: Head &Neck Surgery – Otolaryngology, 4th Edition volume one, Chapter 7, Congenital anomalities of aerodigestive tract page – 1126
4.Belmont JR, Grund fast K. Congenital Laryngeal Stridor (Laryngomalacia): Etiology Factors and Associated Disorders. Ann Otol Rhinol Laryngol 1984; 93:430 – 7.
5.Cotton RT, richson MA. Pediatric Otolaryngology. Philadelphia: WB Saunders; 1983.
6.Ferguson CF. Congenital abnormalies of the infant larynx. Otolaryngol Cli North Am 1970; 3: 185 – 200.
7.Ford GR, Irving RM, Jonas VS, Bailey CM: ENT Manifestation of Fraser Syndrome J Laryngol Otol 1992; 106:1 – 4
8.Haim Bib, MD; Ekaterina Khrolis MD; David Shoseyor, MD; MellyOhaly MD; David Ben Dor MD; Daniel London, MD; DoritAter, MD: The Prevalence of Gastroesophageal Reflux in Children with tracheosmalacia and Laryngomalacia. Chest 2001, 119 (2). 409 -413
9.Hawkins DB, Clark RW: Flexible Laryngoscopy in Neonates, Infants and Young Children. Ann Otol Rhinol Laryngol 1987; 69: 81 – 5.
10. Holinger LD, Konoir RJ: Surgical management of severe laryngomalacia. Laryngoscope 1989; 99:136 – 2.
11. Holinger PH, Johnson KC: The infant with Respiratory Stridor. Pediatr Chin North Am. 1955; 2: 4033 – 11.
12. Hollinger classification of Laryngomalacia: Classification system in paediatric ORL. www.orlforall.Com
13. Internet access: [PDF] STRIDOR www.medicine.vodiyala.edu.a//stridor. 546pm 24th March, 2016
14.Lauren A, Kil Patrick, Jenings R Boyette , ladrry D. Hartzell, Jullen A. Norton. Prospectus quality of life assessment in laryngomalacia. International Journal of Pediatric ORL 2014 April 78(4): 583 - 7
15.Mancuso RF, Choiss, Zalzal GH, Grundfast KM. Laryngomalacia: the search for the second lesion. Arch Otolaryngol Head Neck Surgery 1996; 122:302 – 6.
16.McSwiney PF, Cavanagh NP, Languth P: Outcome in congenital Stridor (laryngomalacia).Arch Dis Child 1977; 52:215 – 8.
17. Nussbaun E, Maggi JC: Laryngomalacia in Children. Chest 1990; 98: 942.
18.Prasad J.T, Jeffrey P.S, Sukgi C, Raymond M, Deepak KM. Clinical relevance of quality of life in laryngomalacia. Laryngoscope 2015 Jul. 30.
19.Richter G.T and Thompson M.D: "The surgical management of laryngomalacia", Otolaryngologic clinic of North America, Vol. 41, no. 5, pp 837 – 864. 2008.
20.Solomon MB, Prescott CA. Laryngomalacia: A review and surgical management for severe cases. Int J pediatrics Otoryngol 1987; 13:31 – 9.
21.Thompon D. M "Abnormal sensorimotor integrative function of the larynx in congenital laryngomalacia: a new theory of etiology". Laryngoscope, vol. 117, no. 6, supplement pp 1 – 33, 2007
22.Zalzal GH, Anon JB, Cotton RT. Epiglohoplasty for treatment of laryngomalacia Ann Otol Rhinollaryngol 1987; 96:72