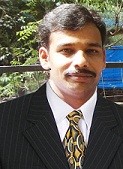 Dr.Lokanadha Reddy
Designation: Editorial Board Member
Affliation: M.Com, M.B.A., Ph.D.
Institution: REVA University
Country: India
Journal : TEXILA INTERNATIONAL JOURNAL OF MANAGEMENT
Biography
Dr. M. Lokanadha Reddy, presently working as an Assistant Professor of Management Studies in REVA University, Bangalore. Doctoral Thesis entitled "Quality of Work Life in Banks: An Inter-Sectoral Study" from Department of Commerce of Sri Venkateswara University, Tirupati, Andhra Pradesh, India. Teaching experience of 9 years and 1.6 year of Administrative experience. Teaching 4 years in UG as Lecturer and 6 Years in PVKN Govt. PG College, AIMS Institutes, and REVA University Top rated B – Schools for M.Com & M.B.A Students. Organized workshops, Seminars and other Management Events (viz.,Business Quiz, Add Zap) for MBA students.
Research Interest
Area of Specialization: Accounting & Finance, Human Resource Management and Banking. Strong focus on attractive and innovative teaching, research and academic practices in business related technical subjects highly organized work performance and ability to manage Crises Management. Research experience of 6 years and published 2 books and 20 papers in reputed national and international journals.
Articles published in English Language Journals : 9
Book Chapters Published in English : 11
Books Published in English : 2
Editing or PEER Review Articles : 7