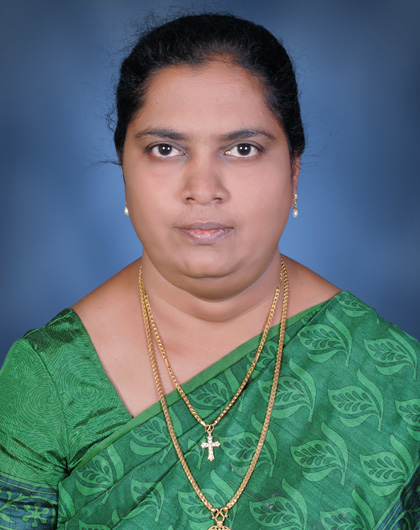 Dr. S. Rheeta Marjery
Designation: Chief Editor
Affliation: Principal
Institution: Sree Pashmi Institute of Management
Country: India
Journal : TEXILA INTERNATIONAL JOURNAL OF MANAGEMENT
Biography
Dr.S.Rheeta Marjery is an efficient well known academician in South India. She has been contributing to Educational Industry by performing various roles such as Professor, Researcher, Editor, Reviewer, Publisher, Author and also producing qualified graduates fit for industrial requirements across the world. Her dedication to educational industry paved her with many achievements. Dr.S.Rheeta Marjeryis currently serving as the Principal of Sree Pashmi Institute of Management and Science, affiliated to Bharathiar University, Coimbatore, Tamil Nadu, India. She handles full administration of the institute and acts as the representative for University communications. Dually, she works for Texila American University, Guyana, South America as anAdjunct Faculty in School of Management, handling papers of various management disciplines and Subject Matter Expert for Distance, Online MBA, Under Graduation, Post-Graduation and Doctoral Programs. She also acts as the co-guide for research projects of Masters and Doctoral programs in Management.
Dr.S.Rheeta Marjery holds a good pack of degrees supporting to her academic career. She was awarded Doctor of Philosophy in Commerce with Highly Commendable grades for the thesis titled "A Critical Analysis on Entry Level Employability" fromMother Teresa University, Kodaikanal, India in 2012. Her Post Graduate degrees include a Master Degree in the field of Business Administration specialized in Financial Management from Periyar University, India in 2011, a Master Degree in the field of Commerce specialized in Computer Applications as well from Annamalai University, India in 2005, a Master (Research) degree named as M Phil in the field of Commerce from Madurai Kamaraj University, India, in 2000, a Master Degree in the field of Commerce specialized in Costing from Madurai Kamaraj University, India in 1993. She also holds a Bachelor degree in the field of Education from Bharathiar University, in 1993 and a bachelor degree in the field of Commerce from Madurai Kamaraj University, India, in 1987.
Dr.S.Rheeta Marjery has experiences of 2 plus decades as an academician which includes 6 years in industry, who has come across various roles and posts. Starting with her current role as Principal, She was the Research Director in KV Institute of Management, Coimbatore, India for one year. During her stay she was engaged in the decision making process of research activities and worked as the Professor for MBA program. She was also handling papers such as Accounting for Management, Financial Management and Professional Skill Development. She was also acting as the representative for NAAC accreditations and in charge for students' placements. During the tenure played a key role in getting a prestigious Award "Best upcoming Institution in South India.
She was the Director of Academics in Sri Venkateswara Institute of Information Technology and Management, Coimbatore, India for four years where she was the deciding authority on academics and also handled management papers for MBA. During her tenure she was populated for producing 100 per cent results. She played a vibrant role in conducting conferences of national and international standards and executing management events at National levels. To add on, she participated in the world renowned program conducted by Confederation of Indian Industries (CII) in Mumbai and NewDelhi, where she made her presence with her students which is of national importance. The association consist of CEOs, Businessmen, Politicians, Management Leaders and Gurus of Industries, Organizations, Conglomerates and Institutions of various states across India. She made the opportunity to interact with those eminent personalities where she could create a link between the industry and students through the events of the association.
Her highest number of years of experience is 10 years in Angappa College of Arts and Science, Coimbatore, India where she was heading the department of commerce. She engaged in not only handling papers for graduate programs but also actively participating in institutions growth and development by adding many new degree courses. Despite of her experience pack, she has been contributing to literatures in the streams of commerce and management.
Dr.S.Rheeta Marjeryhas been a vibrant researcher and her execution of research was explored through Journals, Books, Articles and Conferences. Her major research publication in reputed international and national journals areas further "Need for Women Entrepreneurs Business Education" in Asian Journal of Research in Social Sciences and Humanities – ISSN: 2249-7315, Impact Factor:0.315, "Changing Trends in Consumption" - A Case Study on Eze Clean (Roots) Mop in Coimbatore City Global Marketing and Strategies – ISBN: 978-93-80530-17-8, "A Critical Analysis of Conventional and Hybrid Plans of Life Insurance Corporation of India" in JM International Journal. ISSN: 2229-6131 and "Emerging need for Employability Skills" in International Journal of Emerging Business Issues. ISSN: 0975-8925, Vol.1p.71.
One of her research outcomes on the topic "Impact of Generic Skill among Graduates" was published in a magazine called HRD Times ISSN: 0976-7401, Vol.13. She has also contributed contents for the book "TRADING & EXCHANGES IN INDIA" on the concept of Book Building - ISBN No 978-93-82163-96-1.Published by Paramount Publishing House, New Delhi and Hyderabad, India and she received a Certificate of Distinction in recognition of professional expertise contribution during the 1st International Scientific e-Conference - 2014 as an INTERNATIONAL JUDGE, Texila American University, Guyana, South America.
Further, Dr.S.Rheeta Marjeryvisited so many institutions for delivering guest lecturers, presenting her research progress in seminars and conferences of local and national levels. Her presentations in seminar on topics include "Time Management" in TiruppurKumaran College for women, Case Study Methods- "Knowledge Management" in Bharathidasan University and "Innovative Trends in Evaluation – Essential for Quality Teaching" in ICFAI, National College. Her presentation and participation in conferences includes "Foreign Direct Investment in Retailing" in GRD School of Commerce & International Business, "Issues & Challenges in Higher Education" in Emerald Heights College for Women, "Role of NABARD in promotion of Microcredit" in Annamalai University and "Financial Inclusion: Challenges, Ways and Policy Options" in Women's Christian College, Chennai.
On adding to her career box, Dr.S.Rheeta Marjeryhas participated and conducted in numerous Faculty Development Programs on various themes and topics in leading institutions across India. Also, has been engaged in integral academic activities of other institutions such as Editorial Advisory Board member in International Journal of EMERGING BUSINESS ISSUES [IJEBI], Reporter for an International Conference on HRM in the Era of Global Mobility on 18th July 2012 organized by Department of Commerce, Kongunadu Arts and Science College, Coimbatore, and Academic Council member in Park College of Arts & Science, Tirupur.
Research Interest
Dr.S. Rheeta Marjery has been a vibrant academician who not only execute as a professor but also a researcher. She researches in depth in the field of management and commerce and imbibe her research in teaching. Her major focus is the Industrial fit through Employability Skills, Knowledge Management, Bridging Students and Corporate Requirements, Education Empowerment, Management Skill Development and Training and Development. She has also extended her area of interest into Economic Growth and Development especially from the perspective of graduates and Education Standards, Institutional contributions to society through students and Government contributions to skill development. Her whole extensive research activities contribute to generic skills and development. Also, she puts her research effort into the area of social marketing, brand management, customer and consumer management, financial institutions, micro financing time management and the like.
Articles published in English Language Journals : 6
Book Chapters Published in English : 2
Books Published in English : 1
Editing or PEER Review Articles : 2