Investigating Factors Affecting
Investigating Factors Affecting Poultry Farmers and Poultry Farms Towards Sustainable Development. A Case study of Poultry Association of Zambia Registered Poultry Farmers in Lusaka Province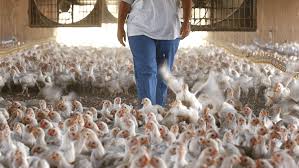 DOI: 10.21522/TIJMG.2015.SE.19.01.Art001
Authors : Namonze Chilala
Abstract:
This research is based on the study of factors affecting poultry farmers and farms in Lusaka Province Zambia. The economic value of poultry cannot be underestimated, they are highly contributing in gross domestic product and fast-growing industry providing large number of employment and animal food production in Zambia.
the researcher has seen a gap between farmer, farm and sustainable development. The future of poultry farming is not certain.
Available evidence has shown that there are a number of factors that affect poultry farmers and poultry farms in Zambia which has affected the poultry industry to continue growing.
However, the poultry has been having improvement in some areas such as production despite the negative internal and external factors that has been affecting the industry. As a result of this the researcher has opted to investigate the factors that are affecting poultry farmers and the factors affecting farms respectively. In order to understand the research question, the research is going to define the key words of the study. Then the factors affecting poultry and farms are given. Followed by the existing solutions for the problem and the best one will be outlined. Limitations and achievements with sustainable development to the study will discussed. The findings will add to the body of knowledge for other researchers. The findings will be used by researchers to build theories and models that relate the factors to the poultry industry. When the theories are formed will help to sustain the poultry farmer and farm to continue for our future generation to come.
Keywords: Factors, poultry farmers, poultry farms, Sustainable development, Poultry association of Zambia, Zambia.
References:
[1].Abhishek, Singh (2017) What is Nation Integration. Greater Noida Institute of Technology.
[2].Amini M, Ramezani M (2006) Evaluation of Factors in the Success of Cooperative Companies Poultry Meat, Tehran Province, Agriculture and Development Economics, year XIV, NO55Evaluation of Factors in the Success of Cooperate Companies Poultry Meat, Tehran, Province, Agricultural and Development Economics, Year XIV. 2016
[3].GRZ (2011) Sixth National Development Plan (SNDP_2011-2015) Sustained Economic Growth and Poverty Reduction- Ministry of Finance, Lusaka-Zambia.
[4].Mulenga Davis (2016) Zambian Poultry Farmers ask Government to protect industry from cheap Imports.
[5].Mupenseni Kennedy (2015) Animal Feed Production-Lochamp, 20 years Experience.www.time.co.zm.
[6].Mbale Tryness (2018) High Feed Price to Injure Poultry Sector.
[7].Poultry Farming/poultry, Fisheries and wildlife Sciences
[8].https://www.omicsonline.org/poultry-farming-peer-reviewed-open-access-journal.phd.
[9]. https://images.agri-profocus.nl/upload/post/PAZ_Presentation_at_the_Doing_busines_forum-Poultry-_26th_APRIL_2017-11498460804.pdf
[10]. Poultry Association of Zambia (2017) Presentation on Doing Business in the Poultry Industry Southern Sun.