The Correlation between Continuous Professional Development and Career Prospects of Technical University Lecturers in Ghana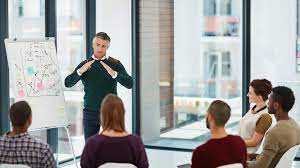 DOI: 10.21522/TIJMG.2015.09.02.Art001
Authors : William Owusu-Boateng
Abstract:
The main objective of this study was to find the prospects continuous professional development offer to lecturers at technical universities in Ghana. The researcher used two technical universities for the research. The study was qualitative in nature with a sample size of four-eight, comprising of six deans of faculty, six heads of department and thirty-six lecturers. Two interview schedules were used to collect the data. One of the schedules was used to collect data from the deans and the heads of department and the other was used to interview the lecturers. Some of the findings included that CPD helps lecturers at technical universities in Ghana to improve their teaching, research and managerial skills and competencies. CPD helps lecturers to conduct research and do publications which enhances their chances for promotion. The study also revealed that lecturers who embark on CPD face financial challenges. That aside, they also face sociological and psychological challenges. Sociologically, those who leave for further studies may not be able to make time for the family members and social events and can mar their social ties. When such people become isolated due to inability to socialise, or ignored by friends and colleges it can bring about psychological problems. It is recommended that lecturers should collaborate with other colleagues for research activities and publications. Moreover, all lecturers should budget every each to at least to attend one conference or workshop a year.
Keywords
: Coaching, Competencies, Prospects, Profession, Promotion.
References:
[1] Jason, H. and Westberg, J. 1982 Teachers and Teaching in us Medical School, Chapters 19 and 20 (Connechcut), Appleton - Century – Groff.
[2] Wilkinson, D. 1998. University of Life? Police Review, 21 August, pp. 21–23.
[3] King, F. 2014. "Evaluating the Impact of Teacher Professional Development: An Evidence Based Framework." Professional Development in Education 40 (1): 89–111.
[4] Johnston, S. 1998. Academics as learning professionals. HERDSA http://www2.auckland.ac.nz/cpd/HERDSA/HTML/StaffDev/JOHNSTON.HTM.
[5] Norris, R. 2003. Implementing the ILTHE Continuing Professional Development Framework. Report of the CPD Consultation held Spring 2003. http://www.ilt.ac.uk/127.asp.
[6] Universities UK www.universitiesuk.ac.uk.
[7] Becher, T. 1996. 'The Learning Professions' Studies in Higher Education 21(1) 43-55.
[8] Wareing, S. 2004. It isn't what you say, it's the way that you say it: an analysis of the language of educational development. Educational Developments Issue 5(2).
[9] Cowan, J. 2001. Developing Skills, Abilities or Capabilities: implications for educational developers. Educational Developments Issue 2(3): 1-4.
[10] McLinden, M.T., McCall, D. H. and Weston, A. 2006. Developing online problem-based resources for the professional development of teachers of children with visual impairment. Open Learning 21, no. 3: 237–51.
[11] McNicholl, J., and Noone, M. 2007. Teaching and learning at A level within a modular context: A collaborative project with biology teachers. Paper presented at the British Educational Research Association Annual Conference, September 5–8, at the Institute of Education, University of London, UK.
[12] Pedder, D. 2006. Organisational conditions that foster successful classroom promotion of learning how to learn. Research Papers in Education 21, no. 2: 171–200.
[13] Cordingley, P., Bell, M. Evans, D. and Firth, A. (CPD Review Group). 2005. The impact of collaborative CPD on classroom teaching and learning. Review: What do teacher impact data tell us about collaborative CPD? London: EPPI-Centre.
[14] Wilde, J. 2005. 'Doing the undoable'. Professional development in schools in Special Measures. NCSL work in progress. Nottingham: National College of School Leadership.
[15] Boyle, B., While, D. and Boyle, T. 2004. A longitudinal study of teacher change: What makes professional development effective? The Curriculum Journal 15, no. 1: 45–68.
[16] Dalgarno, N. and Colgan, L. 2007. Supporting novice elementary mathematics teachers' induction in professional communities and providing innovative forms of pedagogical content knowledge development through information and communication technology. Teaching and Teacher Education 23, no. 7: 1051–65.
[17] Bolam, R. and Weindling, D 2006. Synthesis of research and evaluation projects concerned with capacity-building through teachers' professional development. General Teaching Council for England.
[18] Miller, D., and D. Glover. 2007. Into the unknown: The professional development induction experience of secondary mathematics teachers using interactive whiteboard technology. Learning, Media and Technology 32, no. 3: 319–31.
[19] Jaafar, R 2006. Faculty Development at School of Medical Sciences, Universiti Sains Malaysia- An Overview.
[20] Unified Condition of Service Senior for Senior Members of Public Universities in Ghana. 2008. University Press. University of Ghana.