An Assessment of Public Private Partnership and Social Service Reform in Nigeria: 1999-2007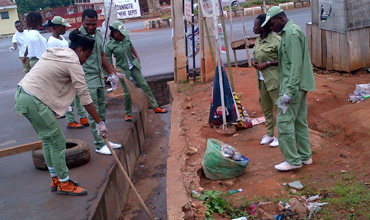 DOI: 10.21522/TIJMG.2015.02.01.Art010
Authors : Nebo Sandra Ogochukwu, Nnamani, Desmond Okechukwu, Ituma Afam.O
Abstract:
The provision of infrastructure in any developing nation especially third world countries is the backbone of the country's national economy. The government at all levels is responsible to provide infrastructure via dependence on loans and credits from financial institutions, the requirement for the infrastructure deficit is such that cannot be met by relying on the public sector to boost public investment without increasing public borrowing. The exclusive funding of social services in Nigeria was a challenge in early 80s; the economy co-opted International Monetary Fund (IMF) and Structural Adjustment Programme (SAP) to disengage social service delivery. The premise of global economic meltdown declined the revenue base and source of income as a means of funding social services in Nigeria. Public Private Partnership initiative has the prospect to attain financial constraints to improve the framework for business environment. The paper examines the link between PPP and social service delivery in Nigeria, and recommends that government should put more efforts to improve the level of awareness on the involvement of private sector in the provision of infrastructure through public enlightenment locally and internationally stating the benefits both for citizens and investors.
References:
[1.] Ayo, B. (1988): "Social Policy in Nigeria's Second Republic: Presidentialism, Politics and administration in a Developing state" Lagos: Daily Times, July 12.
[2.] Abubakar, A (2013): Managing Disasters Through Public-Private Partnership. Georgetown: University Press.
[3.] Babatunde, O, et.al (2012): "Critical Success Factors in Public-Private Partnership (PPP) on Infrastructure Delivery in Nigeria" Journal of Facilities Management. Vol. 10 (3), 212 – 225.
[4.] Barlow, J. and Wright, S. (2013): "Public-Private Partnerships For Building And Managing Health Care Facilities and Services" Health Affairs. 32(1), 146-154.
[5.] Bullock, C. et al (1983): Public Policy in the Eighties, Monterey: Cole Publishing Company.
[6.] Burnett, M. (2007): "PPP Decision Maker Guide" European Institute of Public Administration. 2-7.
[7.] Chan, A, et.al (2008), "Application of Public Private Partnership (PPP)in Hong Kong Region Perspectives" Proceedings on 1st International Conference on Construction in 2nd Countries, Research and Practice, Karachi, Pakistan, 4 August, 302-311.
[8.] Cheung, E. (2009): "Developing the Best Practice Framework for Implementing Public-Private Partnerships (PPPs) in Hong Kong" PhD Thesis, Queensland University of Technology, Australia.
[9.] Colman, J. (2002): "Mumbo jumbo and other Pitfalls: Evaluating PPP Projects" National Audit Office PPP Conference, London, May 11.
[10.] Dada, M and Oladokun, G. (2008): "Public-Private-Partnership Projects in Nigeria'' in Karter, C. and Ogunlana, S. (eds.), Transformation through Construction: Joint 2008 CIB W065/055 Symposium Proceedings. Edinburgh: Watt University.
[11.] Deloitte Research (2006): "Closing the Infrastructure Gap: The Role of Public-Private Partnerships" www.deloitte.com.
[12.] DFID (2007): "Private Sector participation in Infrastructure Development" www.dfid.gov.uk/pubs/files.
[13.] Donnison, D. (1968): "The Teaching of Social Administration" The British Journal of Sociology, Vol. II, 75-91
[14.] Eboh, E. and Igbokwe, E (2006): "Economic Competitiveness across Nigerian States: The Challenge of Infrastructure and Utilities" African Institute of Applied Economics, Issue 2 BECANS Working paper.
[15.] Egbewole, Q. (2011): "Examining Public-Private Partnership in Nigeria: Potentials and
Challenges" LLBEs say, University of Ilorin, Nigeria.
[16.] Ehebha, L. (2011): "An Appraisal Performance of Public Private Partnership in Provision of Infrastructural Facilities in South West Nigeria" M.sc Project Management Project (Unpublished), University of Lagos, Lagos.
[17.] Esfahani, H. (2005): "Measuring Public Sector Performance in Infrastructure" in Shah, A (ed.), Public Service Delivery, World Bank: Washington, D.C.
[18.] Federal Republic of Nigeria (1999): The Constitution of Federal Republic of Nigeria, Abuja: Government Printers.
[19.] Federal Republic of Nigeria (2000): "President Obasanjo Economic Reform 1999-2003" Abuja.
[20.] FGN (2004): National Economic Empowerment and Development Strategy (NEEDS), Abuja, National Planning Commission.
[21.] Geol, S. (1981): Health Care Administration, New Delhi: Sterling Publishers.
[22.] Gunnigan, L. and Rajput, R. (2011): "Comparison of Indian PPP Construction Industry and European PPP Constructions Industry: Process, thresholds and implementation" Proceedings of CIB World Congress.
[23.] Harris, S. (2003), "Public Private Partnerships for better infrastructure services" A Paper Presented at the Workshop Organized by Inter-American Development Bank in Washington, DC, www.pppcentrum.cz/res/data/001 /000167.pdf
[24.] Keet, D. (2008): "The Role and Impact of Chinese Economic Operations in Africa", in Guerrero, D. and Manji, F. (eds.), China's New Role in Africa and the South: Search for a New Perspective. Nairobi: Focus on the Global South, 78-87.
[25.] Kukah, M. (1999): Democracy and Civil Society in Nigeria, Ibadan: Spectrum Books.
[26.] Leiringer, R. (2003): "Technological Innovations in the Context of Public-Private Partnership Projects" unpublished PhD thesis, Royal Institute of Technology, Stockholm.
[27.] Mabogunje, A. (2007): "Thirty Years After: Reflections on the Development Process in Nigeria" Lecture Series, University of Ibadan: Faculty of Social Sciences, 24 November.
[28.] Moran, T. (1986): "The Future of Foreign Direct in the Third World", in Moran, T. (ed.), invests in Development: New Roles for private capital? Oxford: Transaction Books.
[29.] Moszoro, M. (2008): "The Optimal Capital Structure of Public Private Partnership" IMF Working Papers.ssrn.com.
[30.] Olewe, B. and Anga, J. (1994): Command Administration: The Police Perspective. Enugu: New Generation Books
[31.] Olewe, B. (1995): Development Administration. Aba: Grace Ventures
[32.] Olukoshi, A. (2003): "Towards an Enduring Economic Foundation for Democratic Federalism in Africa" in Gana, A. and Egwu, S. (eds.), Federalism in Africa: framing the National Question, New Jersey: Africa World Press.
[33.] Olukoshi, A. (1993): "General introduction: from crisis to adjustment in Nigeria" in Olukoshi, A. (ed.), The Politics of Structural Adjustment in Nigeria. London: James Currey.
[34.] Oyesiku, O. (2009), "Global Economic Recession Environment and Sustainable Development in Nigeria" Annual, College of Management and Social Sciences Lecture Series 1, Osun State University, Osogbo, 28 April.
[35.] Sampson, E. (2008): "Global Financial crisis: Recession, Depression and other threats" Zenith Economic Quarterly, Vol.3 (4), 68-75.
[36.] Tropman, J. (1976): Strategic Perspectives on Social Policy, London: Pergamon.
[37.] UN/ECE (2000): "Guidelines on Private Public Partnerships for Infrastructure Development" A Paper Presented at United Nations Economic, Geneva.
[38.] Ujo, A. (2007): Development Administration in Nigeria, Kaduna: Joyce Publishers.
[39.] Virginia, T & Allen, O (2012): "Public-Private Partnership Development" http://a4id.org/Public-Private% 20Partnership.pdf
[40.] World Bank (2007) "Public Private Partnership Units: Lessons for their designs and use in infrastructure"
[41.] Zheng, J. and Lewis,. M (2008): "The Dynamics of Contractual and Relation Governance: The Long-term Public-Private Procurement Arrangements" Journal of Purchasing and Supply Management. 14(1), 43-54