Performance Appraisal as an Employee Evaluation Tool in an Organization like the Integrity Commission of Guyana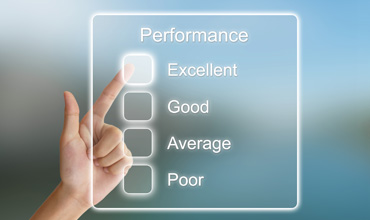 Authors : Amanda Jaisingh
Abstract:
To evaluate an employee is a management task and a tool that is constantly used is Performance Appraisal. The business dictionary.com define Performance Appraisal in three parts that is, it is the process where managers/consultant 1) examines and evaluates an employee's work behavior by comparing it with present standards, 2) documents the results of the comparison, and 3) uses the results to provide feedback to the employee to show where improvements are needed and why. An efficient and effective organization will constantly performed evaluation on its employees to measure their work performance on the job. An organization must understand that Performance Appraisal is not the only tool to measure an employee performance. Employees' evaluation is an assessment/ review of an employee job performance. Performance Appraisal is a formal/objective assessment of an employee's job performance. This Performance Appraisal at the Integrity Commission is an evaluation tool that will identify employees that are performing from the one that is not. An organization Performance Appraisal must have a clear purpose and measurable objective. The most common errors in the evaluation process are the halo and horn effect or a poorly designed Performance Appraisal. To overcome these errors, manager/supervisors should have discussions with the employees when designing the Performance Appraisal so that their goals and objective can also be incorporated with the position goals and objectives. The Performance Appraisal is presented as an evaluation tool used at the Integrity Commission in Guyana. The Commission had taken into consideration Milan Fekete research in which he said that Van and Dan den Berglie (2004) said that organizational performance is "the measurement and reporting system/ tools that qualifies the degree to which managers achieve their objectives". At the Office of the Integrity Commission evaluation of employee is done every six (6) months using the Performance Appraisal to see whether an employee was performing on the job in order to be eligible for the payment of his/her gratuity, to identify areas that need training. In designing the Performance Appraisal for the Integrity Commission, it adopted the following questions poses by Milan in his research to make it an effective evaluation tool:
1. Who should design the evaluation process?
2. Who should evaluate whom?
3. Who should review the evaluation results?
4. How these results could be exploited?
In adopting these questions the performance appraisal as an evaluation tool at the Integrity Commission was a success.
Keywords: Employees Evaluation, Performance Appraisal.
References:
[1.] M. Armstrong, Performance Management, Third Edition (2006)
[2.] Milan Fekete, The Practical Model of Employee Performance Evaluation, Comenius University Bratislava, Faculty of Management, Slovakia, 2004.