Improving Dining Hall Attendance among Female Students in Public Co-Educational Secondary Boarding Schools in Ghana – The Case of Aggrey Memorial Secondary School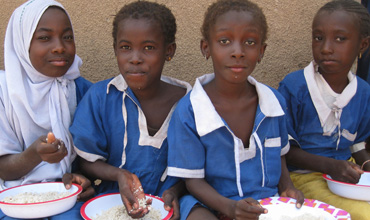 DOI: 10.21522/TIJMG.2015.02.01.Art016
Authors : Freda Kabuki Ocansey
Abstract:
Management of Ghanaian public secondary boarding schools, particularly the co-educational ones is often faced with the problem of irregular attendance of female boarding students to the dining hall. Attendance to the dining hall is important because it ensures that the student is well fed and also benefits from the socialization and other experiences that attending dining hall sessions regularly bring.
This action research was undertaken to identify and put in place specific strategies that will encourage regular dining hall attendance of female boarding students of one public co-educational secondary school where the problem has been reported to exist. The intention was to use the findings and recommendations as a guide to management of schools who are experiencing a similar problem. A sample of 152 female second and third year boarding students of Aggrey Memorial Secondary School in Cape Coast, Ghana, was picked for each of the two tests, that is, the pre-intervention and the post-intervention tests. The sample was made up of 66 second year and 86 third year students. Both pre-intervention and post-intervention data were gathered using the same self-administered questionnaire. The pre-intervention test gathered evidence to ascertain the level of the problem whilst the post-intervention test demonstrated the extent to which interventions identified and applied helped to ameliorate the situation. Data gathered at both stages were converted into frequencies and percentages for analysis. The pre-intervention test revealed irregular attendance to dining sessions due to reasons which students saw as unattractive conditions in the dining hall. Post-intervention test saw a remarkable improvement in the situation. The study concluded that an attempt to make the dining hall a more pleasant and comfortable place to eat and socialize will encourage students to be more regular as required.
References:
[1.] Axler, B.H., (1979). Food service: a managerial approach. Lexington, M A: D. C. Health
[2.] Babbie, E. (1990). Survey of research methods. Belmont, Wadsworth Publishing.
[3.] Barasi, E. & Mottram, R. E. (1987).Human nutrition. London: Edward Arnold, a division of Hodder & Stoughton.
[4.] Bourne, H. (1982).Nutrition education and modern concepts of food assimilation. In G. H. Bourne (Ed) World Review of Nutrion and Dietetics. Vol. 40 New York L Macmillan.
[5.] Brown, R. E (1977). Group feeding in normal and emergency situations. In S. Maclaren. (Ed), Nutrition in the community. Toronto: john wiley and sons. Pp 212 – 269. 18
[6.] Davis, B., & Stone, S. (1991). Food and beverage management. Oxford, England: Linacre House, Jordan Hill, OX2 8DP.
[7.] Dennison, D. (1987). The dine system: Nutrition analysis, diet improvement. West Amherst: Dine Systems Inc.
[8.] Eckel, J.P. Jnr., (1985). College and university food service management standards. Westport: Avi Publishing Company, Inc.
[9.] FAO (1988, Dec.).street foods: report of an FAO expert consultation. Jogiakarta, Indonesia: Arthur.
[10.] Fleck, H &Munves, E. (1962).Introduction to nutrition. New York. The Macmillan Company.
[11.] Fieldhouse P. (1982). Nutrition and education of the schoolchild. In G. H. Bourne (Ed), world review of nutrition and dietetics, Vol. 40 New York: Macmillan. Pp 84-108.
[12.] Furnivall, M. (1977).Designing for minimum effort and maximum efficiency. In G. Giew, (Ed) Catering equipment and systems design, England, essex Applied science Publishers Ltd. Pp 39- 58
[13.] Guthrie, H. a (1989) introductory nutrition. Boston: Mosby College Publishing.
[14.] Hayes, P. R (1977). Hygiene and design of equipment for the catering industry. In G. Glew,(Ed). Catering equipment and systems design. England, Essex Applied science Publishers ltd. Pp 39-58
[15.] Hobbs, B. C (1974). Food poisoning and food hygiene. London: Edward Arnold Publishers Ltd.
[16.] Katz, D., & Godwin, M. T. (1976).Food where nutrition politics and culture meet. An activities guide for teachers. Washington D.C. : Center for Science in the Public Interest.
[17.] Latham, M. (1965).Human nutrition in tropical Africa. Rome: food and Agriculture organization of the United Nations.
[18.] Latham, M. C (1997). Human nutrition in the developing world. Rome: Food and Agricultural Organization of the United Nations
[19.] McLaren, D.S. (1976). Nutrition in the community. New York: John Wiley and Sons.
[20.] Oke, O. L &Ojofeitimi E. O (1984) Nutrition for nurses. Harlow: Longman Group U. K Limited.
[21.] Ritchie, J. A .S (1983) Nutrition and families. London: Macmillan Education Ltd.
[22.] Runyan, T.J. (1976). Nutrition for today. New York: Harper & Row Publishers. Schawrz, C. (Ed). Chambers giant paperback English dictionary (1996)
[23.] Simpson, J.B. (1977). Design to reduce cleaning costs and improve catering hygiene.
[24.] In G. Glew (Ed) Catering equipment and systems design, England, Essex Applied Science Publishers Ltd. Pp 39-58
[25.] Steinberg, L & Belsky, J. (1991).Infancy childhood & adolescence development context. Toronto: McGrew-Hill, Inc