Effect of Planned Exercise on Serum Biomarkers in Chronic Obstructive Pulmonary Disease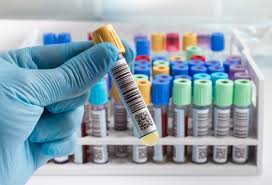 DOI: 10.21522/TIJMD.2013.06.01.Art002
Authors : Suhail Neliyathodi, Nikhil Rajagopal
Abstract:
Objectives: To study the influence of planned exercise training in COPD patients on serum biomarkers - plasma fibrinogen, CRP, albumin.
Methods: This is a hospital based randomized control trial conducted in a tertiary care teaching hospital in northern Kerala from January 2016 to September 2017. 40 patients of COPD (GOLD category C& D) who are more than 40 years of age and without any serious other systemic diseases are divided equally into intervention and control group by random allocation. Both groups are given standard pharmacological treatment and the intervention group was taught about planned exercises which include purse lip breathing and diaphragmatic breathing and lower limb exercises to increase strength and stamina 25 times a day in morning and evening 5 days a week. All patients will be followed up for one year. Plasma fibrinogen, CRP, albumin were measured every 3 months during this one year follow up during stable disease.
Results and discussion: Present study had shown a significant improvement in biomarkers that include CRP, plasma fibrinogen and albumin.
Conclusion: The study concludes that there is an improvement in level of biomarkers following planned exercises.
Keywords: biomarkers, COPD, pulmonary rehabilitation, plasma fibrinogen, CRP, albumin.
References:
[1]. FangXi, Wang Z, Qi Y, Brightwell R, Roberts P, Stewart A, Sim M, Wang W. Long-term effect of respiratory training for chronic obstructive pulmonary disease patients at an outpatient clinic: a randomised controlled trial. Clinical and translational medicine. 2015 Oct 12; 4 (1):1.
[2]. Foglio R K, Bianchi L, Bruletti G, Battista L, Pagani M, Ambrosino N. Longterm effectiveness of pulmonary rehabilitation in patients with chronic airway obstruction. European Respiratory Journal. 1999 Jan 1;13(1):125-32
[3]. Ipek Candemir, MD 1 , Pinar Ergun, MD 1 , Dicle Kaymaz, MD 1 , Nese Demir, phy 1 , Filiz Tasdemir,Serum C-Reactive Protein Levels In COPD Patients After Eight Week Comprehensive Pulmonary Rehabilitation Program. 2016 May (pp. A5730-A5730). American Thoracic Society.
[4]. Maria Tereza Aguiar Pessoa Morano, Mesquita R, Da Silva GP, Araújo AS, Pinto JM, Neto AG, Viana CM, De Moraes Filho MO, Pereira ED. Comparison of the effects of pulmonary rehabilitation with chest physical therapy on the levels of fibrinogen and albumin in patients with lung cancer awaiting lung resection: a randomized clinical trial. BMC pulmonary medicine. 2014 Jul 28; 14(1):1.
[5]. Paz-Díaz H, De Oca MM, López JM, Celli BR. Pulmonary rehabilitation improves depression, anxiety, dyspnea and health status in patients with COPD. American Journal of Physical Medicine & Rehabilitation. 2007 Jan 1; 86 (1):30-6.
[6]. Ugur Gonlugur1,* and Tanseli E. Gonlugur.A Retrospective Analysis of Nutritional Parameters in Chronic Obstructive Pulmonary Disease between Sexes. J Clin Biochem Nutr. 2007 Nov; 41(3): 175–178.