Innovative Proposal of Cardiac Hawk Eye Technology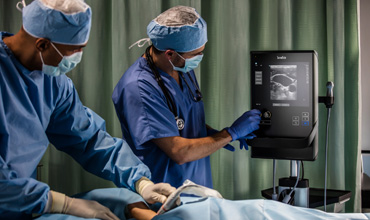 Authors : Sumukha Prasad U, Prithvi Shankar N
Abstract:
Proposal mainly concentrates on the core problem on the early screening of cardiovascular diseases. With presently available instruments diagnosis of the heart diseases is possible, but the constraint that idea is focusing on, is the cost-effective method to be implemented in rural sector. The diagnosis method presently available is ECG, which cannot give the prior information of the disease but only depicts the present status and also for the analysis of the ECG signal a specialized doctor is required. Taking into consideration of disadvantages in the current instruments, a new proposal of module, which can overcome these problems being portrayed.
References:
[1.] Aleksandar Milenković, Chris Otto, Emil Jovanov (2006). ―Wireless sensor networks for personal health monitoring: Issues and an implementation‖ Computer communications Journal (Elsevier) (Volume: 29, Issue: 13-14), pp. 2521 -2313
[2.] Helen, M., Colhoun, etal (2004). ―Primary prevention of cardiovascular disease with atorvastatin in type 2 diabetes in the Collaborative Atorvastatin Diabetes Study (CARDS): multicenter randomized placebo-controlled trial‖. The Lancet journal, Volume 364, Issue 9435, August 2004, pp. 685–696.
[3.] Ian graham etal (2007) ―European guidelines on cardio vascular disease prevention in clinical practice‖, European heart journal (Elsevier), pp. 2375-2414.
[4.] Mark Espeland (2003). ―Look AHEAD (Action for Health in Diabetes): design and methods for a clinical trial of weight loss for the prevention of cardiovascular disease in type 2 diabetes‖, Controlled Clinical Trials (Elsevier) Volume 24, Issue 5, pp. 610–628.
[5.] Pantelopoulos, A., Dayton (2010). ―A Survey on Wearable Sensor-Based Systems for Health Monitoring and Prognosis Systems, Man, and Cybernetics‖, Part C: Applications and Reviews, IEEE Transactions on (Volume: 40, Issue: 1), pp. 1 – 12.
[6.] Yong Gyu Lim, Ko Keun Kim, Suk Park (2006) .―ECG measurement on a chair without conductive contact‖, Biomedical Engineering, IEEE Transactions on (Volume: 53, Issue: 5), pp. 956 – 959.