Intranasal Steroid and Asthma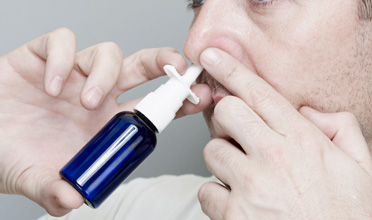 Authors : Rajatsubhra Mukhopadhyay
Abstract:
A non randomized ,active controlled trial was done and still is open to recruitment, open label ,phase-1 type among few children over two years of age with positive history of atopy, WALRI and asthma, with intranasal steroid. Intranasal steroid was given in each side of nose with a phial then to follow On Demand Steroid Therapy [ODIST] was advised. Result was noted with their Symptoms Record Book, PEFR, Spirometry and IgE level.
References:
[1.] Andrew, H., Liu Ronina, A.,Covar Joseph, D., Spahn Donald, Y.M., Leung (2007) NHLBI Guidelines for the Diagnosis and Treatment of Asthma Expert Panel Report
[2.] Johns Hopkins. Health Alert: "Asthma and Gastroesophageal Reflux Disease (GERD) -- What's the Connection?". American Academy of Allergy
[3.] Katayoun Bahadori, Mary, M., Doyle-Waters, Carlo Marra, Larry Lynd, Kadria Alasaly, John Swiston and Mark FitzGerald, J (2009). Economic burden of asthma- A systematic review. BMC Pulmonary Medicine, 9(24).
[4.] Kligman,Stanton,Geme S.T.,Schor,Behrman. Chapter 143 – Childhood Asthma. Pediatrics Textbook of Nelson 18th edition
[5.] Louise Chang, M.D. (2012). Asthma & Immunology: "Asthma and GERD,". Gastroesophageal Reflux Disease (GERD)
[6.] Tim Booth, & Nocon Andrew (1991). The Social Impact of Asthma. Family Practice 8 (1), 37-41.