Fat Embolism Syndrome in Fracture Tibia Treated by Unreamed Interlocking Nail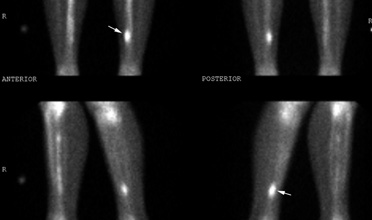 Authors : Oral Roberts R.J.
Abstract:
Fat embolism syndrome (FES) occurs when embolic fat macro globules pass into the small vessels of the lung and other sites, producing endothelial damage and resulting respiratory failure (ARDS-like picture), cerebral dysfunction and a petechial rash. The incidence of fat emboslism in all kinds of fractures is about 16% but sometimes it is as high as 50% to 62%. The fat embolism is common in fatty and bed ridden patients and in whom reamed interlocking is performed under tourniquet and surgery is to be delayed. But in the case discussed by us unreamed interlocking was performed without tourniquet and the operative procedure was done within 4 hours after trauma and the pre-operative investigation were within normal limits. Patient was lean and thin. The present case report is discussed to convey the message that even when surgeon takes every precaution for prevention of fat embolism, it can occur in any case.
References:
[1.] Tzun, Tsai, Chin-Jung, Hsu, Ying-Hao, Chen, Yi-Chin, Fong, Horng-Chaung, HSU, et al (2010). Fat Embolism syndrome in long bone fracture – clinical experience in a terliary referral center in Tawian. Journal of the Chines Medical Association, 73 (8), 407-410.
[2.] James ,C., Glazer, & Danie,l K., Orian. Fat embolism syndrome in a surgical Patient. JABFP, vol 14, No. 4.
[3.] Stein, P.D., Yaekoub, A.Y, Matta, F., et al (2008). Embolism syndrome. Am J Med Sci, 336(6), 472-477.
[4.] Taviloglu, K., Yanar, H. (2007). Fat embolism syndrome. Surg Today, 37(1), 5-8.
[5.] Tumerdem, B., Onel, D., Topalan, M., Korpinar, S., Aktas, S (2008) Fat embolism syndrome after lower extremity replantation associated with libia fracture : case report. Ulus Travma. Acil Cerrahi Derg, 14(1), 73-75.