Hematoma Localization under
Hematoma Localization under Ultrasound-Guidance for Excision (HUGE) of Impalpable Breast Lesions, a Modification to make Screening Effective in Nigeria: Pilot study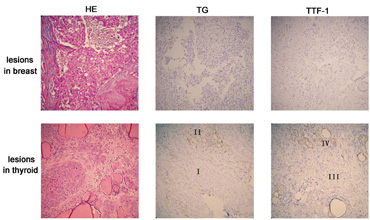 DOI: 10.21522/TIJMD.2013.04.02.Art007
Authors : Olayide Sulaiman Agodirin, Olatoke SA, Rahman GA, Akande HJ, Habeeb OG
Abstract:
Background: Diagnosing and treating impalpable breast lesions is one of the greatest gains of screening and it is a game changer in winning against breast cancer. Screening must be complemented with availability of methods to handle impalpable lesions. At the least, impact of screening is considerably diminished and at worst, screening will be counter-productive or downright unethical if detected lesions cannot be diagnosed and treated, yet standard methods of handling impalpable lesions are not available or not sustainable in low-income centers.
Objective: To make screening effective by finding cheap and sustainable method of localizing, diagnosing and treating impalpable breast lesions.
Method: Intra-operative ultrasound (USS) directed biopsy of impalpable breast lesions was modified so that the localization and operative procedure can be dissociated and performed with limited facility; Under USS-guidance at the radiology department, hematoma was formed around impalpable lesions by injecting 3-4mls of patient's own blood into them and incision placement was planned at the same time. Two to 3 days later, during open surgical procedure without intra operative USS-facility, the iatrogenic hematomas were found and excised. Primary measures of outcome were achievement of successful excision and histological diagnosis.
Result: Following walk-in screening, 5 impalpable breast lesions visible to mammography and ultrasound were included. All 5 were successfully localized and excised. Histological diagnosis was reached in all 5 lesions.
Conclusion: This small volume pilot experience demonstrated how impalpable lesions can be handled in poor resource centers. The HUGE method allows flexibility of scheduling and lowers dependence on high technology.
Keywords: Hematoma localization, Impalpable, breast lesion, low-income
References:
[1]. Adamczyk B, Murawa P. Preoperative localization of nonpalpable breast nodules-which method to choose? Reports of Practical Oncology and Radiotherapy. 2008:201-4.
[2]. Ahmad S, Ginawi AE, Sabbagh S. DEDICATED BREAST CANCER MANAGEMENT CENTRES WITH. FACILITIES FOR FULL IMAGE-GUIDED ASSESSMENT AND IMAGE-GUIDED SURGERY IN THE DEVELOPING AREAS OF PAKISTAN--A LONG OVERDUE NECESSITY. Journal of Ayub Medical College, Abbottabad : JAMC. 2015;27(1):251-4.
[3]. Agodirin O, Olatoke S, Rahman G, Adeoti M, Oyeyemi G, Durojaiye A, et al. How effective is the treatment of locally advanced and metastatic breast cancer in Developing centers; A retrospective review Ethiop J Health Sci. 2015;25(4):338-44.
[4]. Anyanwu SN, Egwuonwu OA, Ihekwoaba EC. Acceptance and adherence to treatment among breast cancer patients in Eastern Nigeria. Breast. 2011;20 Suppl 2:S51-3.
[5]. Alikhassi A, Ahmadinejad N, Sedighi N, Najafi M. Stereotactic breast core needlel biopsy in a tertiary breast center of tehran University of Medical sciences Arch Breast Cancer. 2015;2(1):21-6.
[6]. Agodirin SO, Ojemakinde OM, Bello TO, Oguntola AS, Aremu AA, Ojemakinde KO, et al. Ultrasound-guided wire localization of lesions detected on screening mammography in Osogbo, Nigeria and its impact on breast conservative surgery. Ann Afr Med. 2012;11(2):91-5.
[7]. Akanbi oO, A. Adeoti, M. Aderounmu, A. Idris, O. Abayomi, O. Delay presentation of breast cancer: A study among south western Nigerian women. International Journal of Current Research. 2015;7.
[8]. Blumencranz PW, Ellis D, Barlowe K. Use of hydrogel breast biopsy tissue markers reduces the need for wire localization. Ann Surg Oncol. 2014;21(10):3273-7.
[9]. Chan BK, Wiseberg-Firtell JA, Jois RH, Jensen K, Audisio RA. Localization techniques for guided surgical excision of non-palpable breast lesions. The Cochrane database of systematic reviews. 2015(12):Cd009206.
[10]. Egwuonwu O, Anyanwu S, Ihekwoaba E, Chianakwana G, Iloabachie I. Pattern of presentation and adherence to treatment in young breast cancer patients Orient Journal of Medicine. 2013;25(1-2):14-8.
[11]. Ko K, Han BK, Jang KM, Choe YH, Shin JH, Yang JH, et al. The value of ultrasound-guided tattooing localization of nonpalpable breast lesions. Korean Journal of Radiology. 2007;8(4):295-301.
[12]. Mascaro A, Farina M, Gigli R, Vitelli CE, Fortunato L. Recent advances in the surgical care of breast cancer patients. World J Surg Oncol. 2010;8:5.
[13]. Memon MA, Berstock DA. Ultrasound-guided excision of impalpable mass breast lesion. Annals of The Royal College of Surgeons of England. 1996;78(1):61-2.
[14]. Masroor I, Afzal S, Shafqat G, Rehman H. Usefulness of hook wire localization biopsy under imaging guidance for nonpalpable breast lesions detected radiologically. International Journal of Women's Health. 2012;4:445-9.
[15]. Ogundiran TO, Ayandipo OO, Ademola AF, Adebamowo CA. Mastectomy for management of breast cancer in Ibadan, Nigeria. BMC Surgery. 2013;13:59.
[16]. Sule E. Breast conservation for T3/T4 Tumors in a developing country. wjpmr. 2016;2(4):39-42.