An Overview of Ebola Viral Disease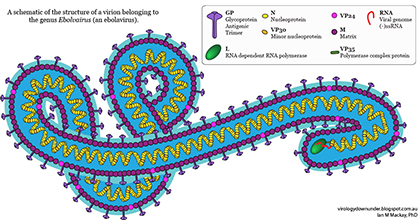 DOI: 10.21522/TIJMD.2013.05.02.Art002
Authors : Muekara Friday Dugbor
Abstract:
Ebola virus (EBOV) and Marburg virus (MARV). Members of the Filoviridae virus family, are known as emerging and re-emerging zoonotic pathogens causing acute hemorrhagic fever with high case-fatality rate in human (up to 90%) (1).
Ebola hemorrhagic fever (EHF) was first reported in 1976 during the Ebola outbreak in the Democratic Republic of the Congo (formally Zaire), and the virus is named after the Ebola River where it was discovered. Since then, 21 additional Ebola virus disease (EVD) outbreaks among human have occurred in the tropical regions of sub-Sharan Africa. The largest one to date took place in the Gulu District of Uganda in 2000-2001 caused by Sudan virus (SUDV). This outbreak resulted in 425 cases, of which 216 were laboratory confirmed, and the overall case fatality rate was 53% (20. The Ebola strain that is now circulating in West Africa bears shows the homology of 97% with Zaire Ebola virus samples found in the Democratic Republic of Congo and Gabon(2). Historically, this strin has caused the highest mortality (90%), while the current estimate of case fatality rate is less than 60% (3).
References:
[1]. Asian Pacific journal of Tropical Biomedicine.
[2]. Asian Pac J Trop Biomed2014; 4(9):673-4.
[3]. Ansari AA. Clinical features and pathobiology of Ebola virus infection. J Autoimmune 2014; 55:1-9.
[4]. Feldmann H, Geisbert TW. Ebola hemorrhagic fever. Lancert 2011; 33(9768):849-62
[5]. Hensley LE, Stevens EL, Yan SB, Geisbert JB, Macias WL, Larsen T, et al. Recombinant human activated protein C for the post exposure treatment of Ebola hemorrhagic fever. J Infect Dis 2007; 196(Suppl 2); S390-9.
[6]. Koenig KL, Majestic C, Burn MJ. Ebola virus disease: essential public health principles for clinicians. West J Emerg Med2014; 15(7):728-31. Fauci AS. Ebola-underscoring the global disparities in health care resources. NEngl J Med 2014; 371(12):1084-6.
[7]. WHO manual on the treatment hemorrhagic fev Marzi A, Feldman H, Geisbert TW, Falzarano D. Vesicular stomatitis virus based vaccines for prophylaxis and treatment of filo viruses infections' Bioterror Biodef2011;doi:10.4172/2157-2526.SI-004.
[8]. Waheed Y. Ebolain West Africa: an internal medical emergency.
[9]. Wiwanitkit V. Ebola virus infection: what should be known? N Am J
[10]. Med Sci 2014; 6(11):549-52.
[11]. Stein RA. What is Ebola? Int J Clin Pract 2015;69(1):49-58
[12]. WHO Ebola response Team. Ebola virus disease in West Africa-the first 9 months of the epidemic and forward projections. N Engl J Med 2014; 371:1481-95.