Is Aversion to Caesarean Section Justified in Africa?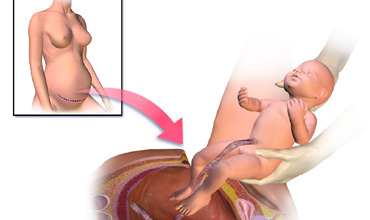 Authors : Monisayo O. Komolafe, Johnson O. Komolafe, Ayobami M. Owolabi, Olayemi O. Ademakinwa
Abstract:
Caesarean section (CS) is still relatively not well accepted in Africa when compared to Western countries. Morbidity following CS especially inability to do things by oneself is a major deterrent to accepting CS. This study reviewed morbidity following CS & retrieve feedback on CS from clients.
A retrospective three year review of all CS done in an obstetric specialist unit was conducted. A cross sectional study was carried out using self-administered questionnaire to retrieve feedbacks from clients who have had CS done on them.
Caesarean section rate was 68.59%. Mean time to ambulation, taking of oral sips, commencement of breastfeeding was 24 hours while mean time to discharge was 71.7hours. 70% of the women had no regrets doing CS. About 50% would want some improvement in the process of CS especially the spinal anaesthesia. Morbidity following CS occurred in less than 20%.
Keywords: aversion, caesarean section, postoperative, morbidity
References:
[1.] Adenike F Faremi, Olabisi F Ibitoye, Matthew I Olatubi, Patricia N Koladoye, Gbemisola B Ogbeye 2014. Attitude of pregnant women in south western Nigeria towards caesarean section as a method of birth. Int. J Reprod Contracept Obstet Gynecol; 3(3): 709-714.
[2.] Caesarean section: Brief history. http://www.nlm.nih.gov/exhibition/cesarean/preface.html
[3.] B. S. AWOYINKA, O. A. AYINDE, & A. O. OMIGBODUN 2006. Acceptability of caesarean delivery to antenatal patients in a tertiary health facility in south- west Nigeria. Journal of Obstetrics and Gynaecology; 26(3): 208 – 210
[4.] Fasubaa OB, Ogunniyi SO, Dare FO, Isawumi AI, Ezechi OC, Orji EO 2000. Uncomplicated Caesarean section: is prolonged hospital stay necessary? East Afr Med J;77(8):448-51.
[5.] Gregson H 2011. Reducing surgical site infection following caesarean section. Nurs Stand. 17-23;25(50):35-40.
[6.] History of caesarean section. http://www.natural-motherhood.com/history-of- cesarean-section.html
[7.] http://www.huffingtonpost.co.uk/2011/10/29/caesarean-section-n_1065527.html
[8.] Igberase GO, Ebeigbe PN, Andrew BO 2009. High caesarean section rate: a ten year experience in a tertiary hospital in the Niger Delta,Nigeria. Niger J Clin Pract;12 (3):294-7.
[9.] Komolafe J.O, Dayo A.A, Isawumi A.I, Adedokun V.O, Akinola S.E, Oboro V.O 2005. Caesarean section rate: Is Lautech Teaching Hospital WHO compliant? NCR. 9(2): 37-41
[10.] Luz Gibbons, José M. Belizán, Jeremy A Lauer, Ana P Betrán, Mario Merialdi and Fernando Althabe 2010. The global numbers and costs of additional needed & unnecessary caesarean sections performed per year: Overuse as a barrier to universal coverage. World health report.
[11.] Murphy KW. 1999. Reducing the complications of caesarean section. In: Bonnar J, editor. Recent advances in obstetrics and gynaecology. Edinburgh: Harcourt. Vol 20. pp 141 – 152.
[12.] Oliver C Ezechi,
Asuquo Edet, Hakim Akinlade, Chidinma V Gab-and Ebiere Herbertson 2009. Incidence and risk factors for caesarean wound infection in Lagos Nigeria. BMC Res Notes; 2: 186.
[13.] Oliver C Ezechi, Olushola B Fasubaa, Bruno EK Kalu, Chikezie A Nwokoro, Lilian O Obiesie 2004. Caesarean Delivery: Why The Aversion? Trop J Obstet Gynaecol;21:164-167
[14.] Sunday-Adeoye, CA Kalu 2011. Pregnant Nigerian women's view of caesarean section. Nigerian Journal of Clinical Practice; 14(3):276-279.
[15.] Tan PC, Norazilah MJ, Omar SZ 2012. Hospital discharge on the first compared with the second day after a planned cesarean delivery: a randomized controlled trial. Obstet Gynecol.;120 (6):1273-82.