Assessment of Utilization
Assessment of Utilization of Standing Order in the Management of Patients by Community Health Extension Workers in Ekiti State, Nigeria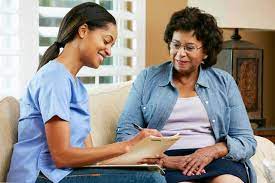 DOI: 10.21522/TIJPH.2013.10.04.Art010
Authors : Rasheed Adeyemi Adepoju, Afe Abayomi Joseph
Abstract:
Engagement and training of community health extension workers was the strategy adopted by Nigeria to solve the problem of the dearth of skilled health workers at the primary health care level. This group of health workers were trained to use standing orders in the management of the patient at this level of care. The purpose of this study is to investigate the extent of utilization of standing order among community health extension workers. The research was cross-sectional in nature, and it used a self-applied structured questionnaire. The questionnaire was distributed between March and April 2022. There were 265 respondents with age ranges between 23 and 58 years, and the majority (86.7%) were females. 98.1% possessed a copy of the standing order, and 88.5% and 9.9% kept their standing orders in health facilities and home, respectively. 62.3% used it regularly, 19.6% occasionally, 8.3% sometimes and 9.8% rarely used it. Reasons given for not using standing orders included- waste of time, patients who think I am not competent, and not containing new drugs. Regular utilization of standing order is low, and there is a need to educate the community extension workers on the importance of standing order at the primary health care level.
Keywords:
Standing order, Standardization, Utilization.
References:
[1] Ibrahim D.O: Assessment of the Use of National Standing Orders in the Treatment of Minor Ailments among Community Health Practitioners in Ibadan Municipality. International Journal of Scientific and Research Publications, 2016; 6(10): 50-54.
[2] James Macinko, Barbara Starfield and Temitope Erinosho: The Impact of Primary Healthcare on Population Health in Low- and Middle-Income Countries. J Ambulatory Care Manage, 2009; 32(2): 150-171.
[3] Taiwo Akinyede Obembe, Kayode Omoniyi Osungbade, and Christianah Ibrahim: Appraisal of primary health care services in federal capital territory, Abuja, Nigeria: How committed are health workers. The Pan African Medical Journal, 2017; 28: 134.
[4] Bolaji Shamson Aregbeshola and Samina Mohsin Khan: Primary Health Care in Nigeria: 24 years after Olikoye-Ransome Kuti's Leadership. Frontiers in Public Health, 2017; 5:48/.
[5] Alenoghena I., Aigbiremolen A.O., Abejegha C. and Eboreime E: Primary health care in Nigeria: Strategies and constraints in implementations. International Journal of Community Research, 2014; 3(3): 74-79.
[6] Abdulraheem I.S., Olapipo A.R. and Amodu M.O: Primary health care services in Nigeria: Critical issues and strategies for enhancing the use by the rural communities. Journal of Public Health and Epidemiology, 2012; 4(1): 5-13.
[7] Gideon E.D.O: Perspective on Primary Health Care in Nigeria: Past, Present, and Future. Centre for Population and Environmental Development, 2014; Series No 10.
[8] Seye Abimbola, Titilayo Olanipekun, Uchenna Igbokwe, Joel Negin, Stephen Jan, Alexandra Martiniuk, Nnenna Ihebuzor, and Muyi Aina: How decentralization influences retention of primary health workers in rural Nigeria. Global Health Action, 2015; 8:26616.
[9] Seye Abimbola, Titilope Olanipekun, Marta Schaaf, Joel Negin, Stephen Jan and Alexandra L.C. Martinuik: Where there is no policy: governing the posting and transfer of primary health care workers in Nigeria. The International Journal of Health Planning and Management, 2017; 32: 492-508.
[10] Olayinka Akanke Abosede and Olugbenga Fola Sholeye: Strengthening the Foundation for Sustainable Primary Health Care Services in Nigeria. Primary Health Care, 2014; 4(3).
[11] Primary health care systems (PRIMASYS): case study from Nigeria. Geneva: World Health Organization; 2017. Licence: CCBY-NC-SA 3.0 IGO.
[12] Tamara Kredo, Susanne Bernhardsson, Taryn Young, Quinette Louw, Eleanor Ochodo and Karen Grimmer: Guide to clinical practice guidelines: the current state of play. International Journal of Quality in Health Care, 2016; 28(1): 122-128.
[13] Irving R. Tabershaw and Margaret S. Hargreaves: Functions of Standing Orders for the Nurses in Industry. American Journal of Public Health, 1947; 37: 1430- 1434.
[14] Guerrero GP, Beccaria LM, and Trevizan MA: Standard operating procedure: Use in nursing care in hospital services. Rev Latino-am Enfermagem, 2008; 16(6): 966-972
[15] Walter RR, Gehlen MH, Ilha S, Zamberlan C, Barbosa de Freitas HM, and Pereira FW: Standard operation procedure in the nursing context: the nurses' perception. Rev Fund Care Online. 2016 out/dez; 8(4): 5095-5100. DOI: http.dx.doi, org:10.9789/21755361. 2016.v8i4.5095-5100.
[16] Fatima Riskat Rahji: Knowledge, Perception and Utilization of integrated Management of Childhool Illnesses among Health care Workers in selected Primary Health Care Facilities in Ibadan, Nigeria. Nursing and Midwifery Council of Nigeria, 2018.
[17] Oyewole MF: Utilization of Primary Health Care Services Among Rural Dwellers in Oyo State. Nigeria Journal of Rural Sociology, 2018; 18(1): 106-111.
[18] Seye Abimbola, Titilope Olanipekun, Marta Schaaf, Joel Negin, Stephen Jan, and Alexandra L.C. Martinuik: Where there is no policy: governing the posting and transfer of primary health care workers in Nigeria. The International Journal of Health Planning and Management, 2017; 32: 492-508.
[19] V Lukali and C Michelo: Factors associated with Irrational Drug use at a District Hospital in Zambia: Patient Record-Based Observation. Medical Journal of Zambia, 2015; 42(1): 25-30.
[20] Mekonnen Sisay, Getnet Mengistu, Bereket Molla, Firehiwot Amare, and Tesfaye Gabriel: Evaluation of rational drug use based on World Health Organization core drug use indicators in selected public hospitals in eastern Ethiopia: a cross sectional study. BMC Health Services Research, 2017; 17:161. DOI.10.1186/s12913-017-2097-3.
[21] Basheer A.Z. Chedi, Ibrahim Abudu-Aguye and Helen O. Kwanashie: Drug use pattern in out-patient children: a comparison between primary and secondary health care facilities in Northern Nigeria. African Journal of Pharmacy and Pharmacology, 2015; 9(4): 74-81.
[22] Bosse G, Schmidbauer W, Spies CD, Sorensen M, Francis RCE, Bubser F, Krebs M and Kerner T: Adherence to Guidelines –based Standard Operating Procedures in Pre-hospital Emergency Patient with Chronic Obstructive Pulmonary Diseases. The Journal of International Medical Research, 2011; 39: 267-276.
[23] Al-Mounawara Yaya: Reducing Under-five Childhood Mortality using IMCI/e-IMCI: Implementation Approaches in Nigeria. A Master's Paper submitted to the faculty of the University of North Carolina at Chapel Hill in partial fulfilment of the requirements for the degree of master's in public health in the Global Public Health Program at The Gillings School of Global Public Health, 2017.
[24] Grace Komuhangi, Nwana Uchechukwu Kevin, Ilori Oluwole Felex and Lydia Kabiri: Factors Associated with Compliance with Infection Control Guidelines in the Management of Labour by Healthcare Workers at Mulago Hospital, Uganda. Open Journal of Nursing, 2019; 9(7): 697- 723. doi: 10.4236/ojn.2019.97054
[25] Sarah Lodel, Christoph Ostgathe, Maria Heckel, Karin Oechsle and Susanne Gahr: Standard Operating Procedures (SOP) for Palliative Care in German Comprehensive Cancer Centres – an evaluation of implementation status. MBC Palliative Care, 2020; 19(62).
[26] Lamin E.S. Jaiteh, Stefan A Helwig, Abubacarr Jagne, Andreas Ragoschle-Schumm, Catherine Sarr, Silke Walter Martin Lesmeister, Dipl-Phys Matthias Manitz, Sebastian Blab, Sarah Weis, Verena Schlund, Neneh Bah, Jil Kauffmann, Mathias Fousse, Sabina Kangankan, Asmell Ramos Cabrera,
Kai Kronfeld, Christian Ruckes, Dipl-Math Yang Liu, Ousman Nyan, and Klaus Fassbender: Standard operating procedures improve acute neurologic care in a sub-Saharan African setting. Neurology, 2017; 89: 144-152. DOI 10.1212/WNL.0000000000004080.
[27] Hongxia Zhang, Zonghong Zhu, Xiaoyan Wang, Xiaofeng Wang, Limin Fan, Ranran Wu, and Chenjing Sun: Application Effect of the Standard Operation Procedures in the Prevention of Venous Thromboembolism. Journal of Healthcare Engineering, 2022. https://doi.org/10.1155/2022/5019898.
[28] David M.O. Omoit, George O. Otieno and Kenneth K. Rucha: Measuring the Extent of Compliance to Standard Operating Procedures for Documentation of Medical Records by Healthcare Workers in Kenya. Public Health Research, 2020; 10(2): 78-86. doi: 10.5923/j.phr.20201002.06.