A Study on Socio-Economic Status and Social Capital of Rural Community Members in South-West Nigeria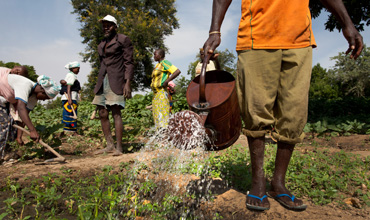 Authors : Oluwakemi Tomori Edet-Utan
Abstract:
The relationship which exists between social capital and socio-economic status of dwellers in rural Nigeria has been poorly researched. This study aims to determine the level of social capital and social support available to rural community dwellers in relation to their health needs and to explore the relationship which exists between social capital and socio-economic status of respondents.
Stratified random sampling technique was used to select 1280 respondents from 4 rural communities in South-West Nigeria (Ejigbo LGA). Data was obtained using an interviewer administered questionnaire in local dialect (Yoruba). Socio-economic status was determined using the Kuppuswamy's method of Social Classification. Chi square was used to test associations between social capital and socio-economic status and level of significant association set at p<0.05.
Male and female respondents were 51.0% and 49.0% respectively within the age range of 15 and 90 years. Majority of the rural dwellers in Ejigbo community belong to the lower socio­economic status.
This study clearly revealed that rural dwellers have strong social support as well as large social capital to fall back on in times of crisis. Majority of the rural dwellers had family members, close relatives, friends, religious leaders and social group to fall back to when faced with health challenges/problems.
Though rural dwellers in Ejigbo community (South-West Nigeria) may have a strong social support and large social capital, it is not a reflection of socio-economic status of the community members.
References:
[1.] Edet-Utan O. T., (2014). " Relationship between Socio-Economic Status and Out-Of-Pocket Expenses on Healthcare in Rural Nigeria", A Case Study By Oluwakemi Tomori Edet-Utan, Nigeria (Mph, PhD Public Health Student Of Texila American University) South American Journal of Public Health, Volume-2, Issue-2, 2014
[2.] Fran, Baum., Professor of Public Health, Flinders University. 5th National Rural Health Conference Adelaide, South Australia, 14-17th March 1999 Proceedings.
[3.] Shankar, Reddy, Dudala., & Arlappa, N., (2013). An Updated Prasad's Socio Economic Status Classification for 2013. Int Journal of Research and Development of Health. April 2013; Vol 1(2).
[4.] Upohoff, E. P., Pickett, K. E., Cabieses, B., Small, N., & Wright, J. A., Systematic Review of the Relationships between Social Capital and Socio-economic inequalities in health: A condition to understanding the psychosocial pathway of health inequalities. Int. J. Equity Health, Jul 19 2013, 1186/1475-9276-12-54
[5.] Uphoff, Norman Thomas., (1986). Local institutional development: an analytical sourcebook with cases / Norman Uphoff for the Rural Development Committee, Cornell University.