Knowledge, Attitude and Practice toward Nutrition among Communities in Southern Senatorial Zone of Borno State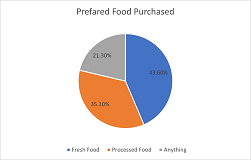 DOI: 10.21522/TIJPH.2013.10.04.Art008
Authors : Ibrahim Musa Ngoshe, Bolori Mohammed, Farouk Nelson Habu, Sambo Ishaku
Abstract:
Nutrition is a key element of health promotion, prevention, and management of diseases. The study was aimed at assessing the nutritional knowledge, attitude, and practice of communities and to determine factors influencing the nutritional knowledge, attitudes, and practices of these communities. A cross-sectional study was conducted among 10 communities. Multistage sampling was used to select the sample size of 1000 individuals. The study utilized both primary and secondary data through journals and administration of a self-developed structured interviewer questionnaire and focus group discussions. The data was analyzed using statistical package for social science (SPSS v20). Results were presented using descriptive statistics and Chi-square. The findings of the study revealed that communities have little or no knowledge about nutrition despite the availability of different sources of nutritional information, majority of communities have a negative attitude towards the importance of nutrition because of their Cultural beliefs. Moreso, majority communities do not prepare balanced family meals. The result from chi-square analysis shows that age and source of nutritional knowledge are the main factors influencing nutritional knowledge and education level, marital status, and sources of family income are the main factors influencing nutritional practices among communities. Base on the findings of the study it was recommended among others that there is need to increased public awareness and enlightenment to improve the attitude and practice of communities, community leaders and health workers to promote good dietary habits and consumption of good indigenous food to motivate practice among communities.
Keywords:
Attitude, Communities, Knowledge, Nutrition, Practice.
References:
[1] World Health Organization (2019) World Health Statistics: monitoring health for sustainable development goals: ISBN 978-92-4-156570-7.
[2] Givens D.I (2018) Dairy foods, red meat and processed meat in the diet: implications for health at key life stages. Animal12, 1709– 1721. Cambridge University Press.
[3] Triches, R. & Giugliani, E. (2005). Obesity, eating habits and nutritional knowledge among school children. Revista de Saúde Pública. 39:541-547.
[4] Ihab, A., Jalil, R., Manan, W., Wan N., Wan S., Mohd S., Zalilah & Abdullah, M. (2013). Nutritional Outcomes Related to Household Food Insecurity among Mothers in Rural Malaysia. Journal of health, population, and nutrition. 31: 480-9.
[5] Mirmiran, P., Azadbakht, L., & Azizi F. (2007) Dietary behaviour of Tehranian adolescents does not accord with their nutritional knowledge. Journal Public Health Nutrition 10(9):897-901.
[6] Kigaru, D.M.D., Loechl, C., Moleah, T. (2015) Nutrition knowledge, attitude and practices among urban primary school children in Nairobi City, Kenya: a KAP study. BMC Nutrition 1(44). https://doi.org/10.1186/s40795-015-0040-8.
[7] Kalu, R.E and Etim, K.E (2018) Factors Associated with Malnutrition among Underfive Children in Developing Countries: A Review. Global journal of pure and applied sciences 24: 69-74 ISSN 1118-0579 DOI: https://dx.doi.org/10.4314/gjpas.v24i1.8.
[8] Berti C, Cetin I, and Agostoni C. (2016) Pregnancy and infants' outcome: nutritional and metabolic implications. Crit Rev Food Science Nutrition. 56:82-91.
[9] Uddin M.T., Islam M.N. & Uddin MJ (2008) A survey on knowledge of nutrition of physicians in Bangladesh: evidence from Sylhet data. South East Asian Journal Medical Education. 2:14–17.
[10] Vahyala A.T., Minnessi G.K. and Kabiru U. (2016). The effects of Boko Haram insurgency on food security status of some selected local government areas in Adamawa State, Nigeria. Sky Journal of Food Science 5(3): 012 – 018.
[11] Nahikian-Nelms, M. (1997) Influential Factors of Caregiver Behavior at Mealtime: A Study of 24 Child Care Programs. Journal of the American Dietetic Association, (97), 505-509.
[12] Bakhtiar M.D., Masud-ur-Rahman M.D., Kamruzzaman Nargis Sultana M.D and Shaikh S.S. (2021) Determinants of nutrition knowledge, attitude and practices of adolescent sports trainee: A cross-sectional study in Bangladesh. Heliyon Journal 7(1):1-11.
[13] Jeinie, M.H.B.; Guad, R.M.; Hetherington, M.M.; Gan, S.H.; Aung, Y.N.; Seng,W.Y.; Lin, C.L.S.; George, R.; Sawatan,W.; Nor, N.M. (2021) Comparison of Nutritional Knowledge, Attitudes and Practices between Urban and Rural Secondary School Students: A Cross-Sectional Study in Sabah, East Malaysia. Foods. 10, 2037. https://doi.org/10.3390/foods10092037.
[14] Fasola O, Abosede O, Fasola F.A. (2018). Knowledge, attitude and practice of good nutrition among women of childbearing age in Somolu Local Government, Lagos State. Journal Public Health African. 9(1):793.
[15] Charles S.R., Ismail S., Ahmad N., Ying L.P, Abubakar N.I. (2016) Knowledge, Attitude, and Practice of Adolescent Girls towards Reducing Malnutrition in Maiduguri Metropolitan Council, Borno State, Nigeria: Cross-Sectional Study. Nutrients. ;12(6):1681.
[16] Likert, R. (1932). A technique for measurement of attitudes. Archives of Psychology, 140, 5-55.
[17] Kassahun, C.W., Mekonen, A.G. (2017) Knowledge, attitude, practices and their associated factors towards diabetes mellitus among non-diabetes community members of Bale Zone administrative towns, South East. Journal of Medical Science 12(1):34-37.
[18] Uba, M. N., Alih, F. I., Kever, R.T. & Lola, N. (2015). Knowledge, attitude and practice of nurses toward pressure ulcer prevention in University of Maiduguri Teaching Hospital, Borno State, North-Eastern, Nigeria. International Journal of Nursing and Midwifery, 7(4), 54-60.
[19] Kaur, K., Grover, K., & Kaur, N. (2016). Assessment of Nutrition Knowledge of Rural Mothers and Its Effectiveness in Improving Nutritional Status of Their Children. Indian Research Journal of Extension Education, 15, 90-98.
[20] Farjana R.B, Joti Lal B., Kazi Abul K. (2021) Knowledge, Attitude and Practices Regarding Nutrition among Adolescent Girls in Dhaka City: A Cross-sectional Study. Nutrition Food Science International Journal. 10(4): 555795. DOI: 10.19080/NFSIJ.2021.10.555795.
[21] Sulaiman S., Muhammad G.A, Muhammad A.S., Abubakar H., and Abubakar S.M. (2020). Assessment of nutritional status, knowledge, attitude, and practices of infant and young child feeding in Kumbotso local government area, Kano State, Nigeria. Pakistan Journal Nutrition 19: 444-450.
[22] French, S. A., Wall, M., & Mitchell, N. R. (2010). Household income differences in food sources and food items purchased. The international journal of behavioral nutrition and physical activity, 7, 77. https://doi.org/10.1186/1479-5868-7-77.a.