Screening Of Primary School Children For Refractive Error In An Urban School In Lagos State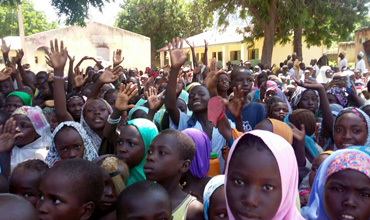 Authors : IMADE PRISCILIA UHUANMWEN
Abstract:
BACKGROUND
METHODS
A cross sectional study on screening for refractive error in school children was carried out in a primary school in Ikeja Local Government Area of Lagos State between November and December, 2012. The study population were school age children from primary 1-6 and the pupils age was 5–11 years. Near acuity was done at 40cm and distance visual acuity for each eye was assessed by an intern Optometrist at 6 meters distance. Those with visual acuity of 6/12 or less were presented with a pinhole and the test repeated. Improvement of visual acuity with pinhole was considered refractive error. Penlight examination was carried out to check for external examination and opthalmoscopy was done under dim illumination to check the internal status of the eye. The isihara chart was used to assess the color vision.
RESULTS
A total of 580 (340 females and 240 males) Pupils were examined. Of these, 506 pupils (87.24%) had no refractive error but 74 pupils ( 12.76%) had refractive errors including amblyopia and color vision defects. Myopia was found to be highest refractive 51.35%, followed by hyperopia 29.73%, astigmatism 10.81%, amblyopia 2.70% and color vision 5.41%.
CONCLUSION
A significant refractive errors was observed among primary school children aged 5-11years at a prevalence of 12 .76%. Refractive errors can affect a child academic performance in school and could lead to permanent visual disabilities in adult life if not detected and treated early. Therefore, there is a need to have regular and timely vision screening in primary school children at least at the commencement of school so as to defect those who may suffer from visual impairment. Eye health education and regular vision screening are very crucial in the prevention of visual impairments among school age children.
References:
[1.] A Children's Eye Health Guide, the National Society to Prevent Blindness, 1987.
[2.] Balogun M. Vision screening among primary school Children in Lagos mainland. Dissertation for the award of a fellowship of the National Postgraduate medical College in Ophthalmology. 1999
[3.] Chuka-Okosa CM. Refractive error among students of a post primary institution in a rural community in south eastern Nigeria. W Afr J Med. 2005;24:62–65.[PubMed]
[4.] Faderin MA, Ajaiyeoba AI. Refractive errors in primary school children in Nigeria. Nig J Ophthal. 2001;9:10–14.
[5.] Gilbert C, Foster A. Childhood Blindness in the Context of vision 2020 - the right to Sight. Bulletin of WHO. 2001;79:227–232. [PMC free article][PubMed]
[6.] Ibeimo Opurin and Chinyere Nnenne Pedro-Egbe. Screening of Primary School Children For Refractive Error in South South Nigeria. Ethiop J Health Sci. 2012 July; 22(2): 129–134. PMCID: PMC3407836
[7.] Nkanga DG, Dolin P. School vision screening program in Enugu, Nigeria: Assessment of referral criteria for error of refraction. Nig J Ophthal. 1997:34–40.
[8.] Prevent Blindness America and the American Academy of Pediatrics. Preschool Vision Screening for Healthcare Professionals. 2005.
[9.] Wedner SH, Ross DA, Balira R, Kaji L, Foster A. Prevalence of eye diseases in primary School children in rural area of Tanzania. Br J Ophthalmol. 2000;84:1291–1297. [PMC free article][PubMed]
[10.] Woddell K. Spherical refraction for general eye workers. Community eye health Journal. 2000;13:6–8. [PMC free article][PubMed]