Prevalence of Vibrio Cholerae in Northern Nigeria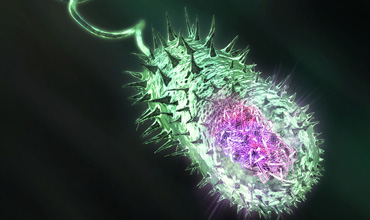 DOI: 10.21522/TIJPH.2013.04.02.Art051
Authors : Abdullateef A. Jimoh, Opajobi S. O.
Abstract:
One hundred and fifty six (156) stool samples were analyzed using selective cultural methods for the isolation of Vibrio species. They were from epidemic areas namely; Jos (Plateau State), Argungu (Kebbi State), Kwali and Gwagwa (Abuja) and Suleja (Niger State) all in Northern Nigeria. 123 (78.8%) were males and 33 (21.1%) females.
Eight of these samples were positive for Vibrio cholera with the distribution as follows; Jos – 2, Argungu – 5 and Kwali – 1.
Serotyping showed that all were of the Ogawa serotype.
Antibiotic sensitivity pattern showed that all eight (100%) samples were sensitive to Ceftazidime, Cefuroxime Axetil, Gentamycin, Sparfloxacin and Tetracycline, 5 (62.5%) sensitive to Erythromycin and 4 (50%) sensitive to Chloramphenicol. The antibiotics that all the isolates were resistant to were Ampicillin, Cloxacillin, Streptomycin and Penicillin.
The study showed that Vibrio cholerae is one of the causes of gastroenteritis epidemics in Northern Nigeria.
References:
[1.] Arora DR, Arora B (2008): Texbook of Microbiology, 3rd Edition
[2.] Chander, Kaitsha J. Gupta N, Melita M, Singla Anitarksh N, Sarkar BL. (2001): Epidemiology and antibiograms of Vibrio cholera isolates from a tertiary care hospital in Chandigarih, North. India, Indian J Med 613-617.
[3.] Chow KH, Yuen KY, Yam WC. (2008): Detection of RTX Toxin Gene in Vibrocholerae by PCR. Journal of Clinical Microbiology P.2594-2597.
[4.] Constantinde M, Murtugudde GCR, Sapino MRP, Nizan A, Brown CW, Busalacchi AJ, Yunus M, Nair GB, Lanata CF, Calkins J, Manna B. Rajendran K, Bhattacharya MK, Huq A, Sack RB, Colwell. (2008): Environmental Signatures associated with Cholera Epidemics. Proc. Natl AcadSci, USA 105:17676-17681.
[5.] Cruickshank R, Duguid JP, Marmion BP, Swan RHA. (1977): Medical Microbiology 20th Edition.
[6.] David BM. (2008): CTX Prophages in classical biotype Vibrio cholera Functional phage genes but dysfunctional phage genomes. Journal of Bacteriology 182:6992-6998.
[7.] Honda T, Finkelstein RA. (2000): Purification and Characterization of a haemolysin produed by Vibrocholerae.
[8.] Janda JM. (1998): Microbiology and Microbial infection by Topley and Wilson, volume 2 published by Arnold Great Britain.
[9.] John A, Ndon, SundeMilldo, William Wherenberg B (1992): Journal of clinical Microbiology.P.2730-2732.
[10.] Kiiru JN, Saiduum, Goddens BM, Wamae NC, Butaye, P, Kariuki SM. (2009). Characterization of Vibrio cholerae01 strain carrying an SXT/R391-like element from Cholera outbreaks in Kenya. BMC Microbiology P.1278.
[11.] Linda B, Adams and Ronald J Seibeling . (2008): Baton Rouge, Louisina. 70803.
[12.] Lopez AL, Clement JD, Dean J, Jodar I. (2008): Cholera vaccines for the developing world .Human Vaccine 4(1): 165-169.
[13.] LizarragaPariida ML, Quilci M. (2009): Molecular Analysis of Vibrio cholera 01 and Clinical strain, including new non Toxigenic variant isolated in Mexico during the Cholera epidemic years. J Clinical Microbiology 47 (33): 1364-1371.
[14.] McCathy SA. (2009): Toxigenic Vibrio cholera and Cargo ships entering Gulf of Mexico Lancet 339:624-625.
[15.] Mohammed HF, Mhatu FS, Lyamuya EF. (2005): Susceptibility of Salmonella, shigella and Vibrio cholera 01 to Antimicrobial Agents. Medical Journal 14-17.
[16.] MSNBC, 16 Nov. 2010; Cholera Epidemic death toll rises to 352.
[17.] Muhammad Alid Akond, Saidul A, Hassan SMR, Sarder Nasir Uddin, Momena Shirin. (2008): Antibiotic Resistance of Vibrio cholera from poultry sorces of Dhaka, Bangladesh; Advances in Biological Research. 2(3-4): 60-67. ISSN 1992-0062@Dosi Publications.
[18.] News 24, 24, Jan. 2009; 381 new Cholera cases in Mpumalanga.
[19.] Nguyen BM. (2009): Cholera outbreak caused by an altered Vibrio cholera 01 EI Tor Biotype strain producing classical cholera Toxin B in Vietnam. J. Clincial Microbiology. 47 (5): 1568-1571.
[20.] Osei FB, Duker A.A (2008): Shifting Prevaelnce of Major Diarrhoeal pathogens in patients seeking Hospital care during floods in Dhaka, Bangladesh. I Am J.Trop Med Hyg.79(95): 708-714.
[21.] Roy J.Almeida, Hickman-Breinner FW, Evangeline G. Sowers, Nancy D. Pulu Farmer III, Wacksmith IK. (2008): Comparisons of a latex agglutination assay and an enyme linked immunosorbent assay for detecting Cholera Toxin. Journal of Clinical Microbiology.P128-130.
[22.] Sack DA, Tacker CO, Cohem MB. (2008): Validation of a volunteer model of Cholera with Frozen Bacterias the challenge. Infect Immun 66:1968-72.
[23.] Sack DA, Sack RB. Cholera.Lancet. (2004): 363:223-233.
[24.] SaiduAlam, Sarder Nasir, Uddin Momena Shirin, Hassan SMR. (2008): Antibiotic Resistance of Vibrio cholera from poultry sources of Dhaka, Bangladesh. Advances in BiologialResearch 2 (3-4): 60-67; 753-851.
[25.] Saka Zaki R, Albert MJ. (2008): Bacteriology of Vibrio and related organisms in cholera. Medial book company, p. 37-54.
[26.] Shukla Das, RumpaSaha, Iqbal R Kaur. Trends of Antibiotic Resistance of Vibrio cholera strains. J.Med 127:478-482.
[27.] Siddique AK, Nur GB, Sack RB. (2004): cholera Lancet. 365:223-225.
[28.] Smith AM, Sooka A, Ismail H, Nadan S, Crisp N, Weewink E, Keedy KH, (2007): Analyusis of Vibrio cholera isolates from Northern province of South Africa. P 151-154.
[29.] Teruyo Ito, Shogo Kuwahara, Takeshi Yokota. (2009): Automatic and Manual latex Agglutination Tests for measurement of cholera Toxin and Heat Labile.
[30.] Urassa WK, Mhardo YB, Mhalu FS, Mhonja SJ. (2000): Antimicroial susceptibility pattern of Vibrio cholera 01 strain during two cholera outbreaks in Dares Salaam, Tanzania.
[31.] World Health Organization, Cholera in Zimbabwe: Epidemiological Bulletin Number 16, Week 13 (22-28 March, 2009). WHO Zimbabwe Daily Cholera Update, 16 April 2009.
[32.] Yechezkel Kashi, Yael Darun Poleg, Lyora A. Cohen, HananGanez, Yoav Y. Broza, HanohGoldsmidt, Elinor Malul, Lea Valinsky, Larisa Lerner, MeiraBroza. (2006): Vibrio cholera strain typing and phylogeny study based on simple sequence repeats.