The Impact of Community Terrorism and Clashes on Quality of Care of Clients in HIV Program in Nigeria. (The Taraba Experience)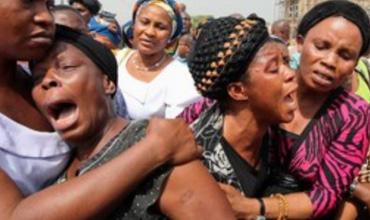 DOI: 10.21522/TIJPH.2013.04.02.Art057
Authors : Pharm Bruno A. Abebe, Pharm. Pinkai Aloysius, Pharm Solomon Abe
Abstract:
One of the major challenges mitigating against the success of the HIV program in Nigeria, particularly in Taraba state, the state under study, was the incidence of community terrorism and clashes between the TIV farmers and Fulani herdsman that happened across certain communities where healthcare facilities were located that offered HIV program. This article will analyze the HIV program in Taraba state and how community terrorism and clashes has contributed to poor quality of care received by HIV patients and led to the dearth of healthcare workers, such as doctors, Pharmacists, nurses, laboratory scientists, record staffs etc and consequently contributed to the high prevalence of HIV in the state.
References:
[1.] Dolberg OT, Barkai G, Leor A, Rapoport H, Bloch M, Schreiber S. Injured civilian survivors of suicide bomb attacks: from partial PTSD to recovery or to traumatisation. Where is the turning point? World J Biol Psychiatry 2010; 11: 344-51.
[2.] Gillespie K, Duffy M, Hackmann A, Clark DM. Community based cognitive therapy in the treatment of posttraumatic stress disorder following the Omagh bomb. Behav Res Ther 2002; 40: 345-57.
[3.] Husain N, Creed F, Tomenson B. Depression and social stress in Pakistan. Psychol Med 2000; 30: 395-402.
[4.] Innovations in Civic Participants. (Online) (Cited 2011 March 30) . Avaiable from URL: www.icicp.org/ht/d/sp/d/sp/a/GetDocumentAction/i/4801.
[5.] Mumford DB, Tareen IA, Bajwa MA, Bhatti MR, Karim R.The translation and evaluation of an Urdu version of the Hospital Anxiety and Depression Scale. Acta Psychiatr Scand 1991; 83: 81-5.
[6.] (Online) (Cited 2011 March 22). Available from URL: http://enwikipedia.org/wiki/list_of_terrorist_incidents_in_Pakistan_since_2001. [link not found]
[7.] Reference for factor loading cut-off. (Online) (Cited 2013 Sep 2). Available from URL: http://spssx-discussion.1045642.n5.nabble.com/Reference-for-factor-loading-cut-off-td1087452.html.
[8.] Schindel-Allon I, Aderka IM, Shahar G, Stein M, Gilboa-Schechtman E. Longitudinal associations between post-traumatic distress and depressive symptoms following a traumatic event: a test of three models. Psychol Med 2010; 40: 1669-78.
[9.] What Is Terrorism? (Online) (Cited 2013 Sep 2). Available from URL: http://www.journalofamericanhistory.org/teaching/2011_06/sources/day1ex3_fbi_definitions.htm
[10.] Yehuda R, Hyman SE. The impact of terrorism on brain and behavior: what we know and what we need to know Neuropsychopharmacology 2005; 30: 1773-80.